Buying a Home with 100% Mortgage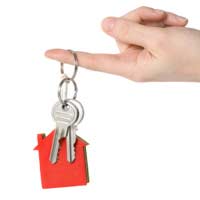 There are those among us who would like to own their own home but cannot afford the deposit for a mortgage because of a low income or poor credit history. To this end such individuals can apply for a one hundred per cent mortgage. Here we look at one hundred per cent mortgages.
What is a 100% Mortgage?
A one hundred per cent mortgage is – as we have mentioned already – a mortgage which covers one hundred per cent of the cost of the home you wish to buy. This means in essence that there is no deposit to find in order for you to buy the home you are looking at and also means that if you have an adverse credit history you may still be eligible for a mortgage.
How to Apply for a 100% Mortgage?
Given the nature of the United Kingdom's economy at the present time and the effects of the so-called 'Credit Crunch' on borrowing it is now more difficult than ever to get a one hundred per cent mortgage.
This is not to say that you cannot but you will have to look around for one. Your best course of action if you feel you cannot raise a deposit for a mortgage is to consult with a financial advisor who will put together what is known as a 'package'. This 'package' is basically your application – be it on your own or as part of a joint application – which contains all the information that might be required by a mortgage lender.
Details included within this application are:
Marital Status
Employment Status
Income
Outgoings
Partner's Income
Credit History
There is of course more information than what is listed here but these are the most important pieces of information to be included within this 'package'.
I've Been Approved for a 100% Mortgage, what now?
Normally when you apply for a mortgage you will have a home in mind. If you have already found a home you are interested in the mortgage company will have it surveyed and will make you an offer as to the size of the mortgage they can give you.
This mortgage will normally be the exact price of the house you are interested in unless the house you are interested in requires considerable work to be carried out. If there is too much work to be carried out on the property the mortgage company will only offer you the asking price of the home and it is then down to you to negotiate with the seller as to price.
Your financial advisor will be able to liaise with solicitors on your behalf in order to resolve issues relating to contracts, land registry searches and the likes and you will be asked to sign contracts signifying your wish to proceed if your offer has been accepted.
What About Fees?
Fees such as those incurred by the mortgage company when they have surveyed the property are usually added to your mortgage. If you are not in a position to pay a deposit then it is more than likely the case that you will not be able to pay these fees however your financial advisor will have fees of their own which they will bill you for separately. It is your responsibility to pay these fees regardless of the mortgage and you should ask your financial advisor in advance to give you an estimate as to how much these fees may be.
For more information on buying a home with a one hundred per cent mortgage you can arrange an appointment with a financial advisor which is normally free or with your solicitor if you have one.
You might also like...