The Return of 100% LTV: What Are the Risks?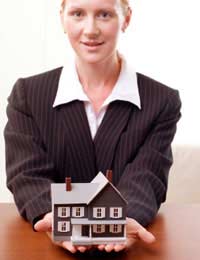 Mortgages that offer 100% of a property's value have received a bad press over the years, mainly because they are perceived as risky.
100% mortgages have also in part been accused of causing the financial crisis in the UK. For a first-time buyer there is nothing more appealing than a 100% mortgage, as it means you do not have to spend years saving for a deposit.
However it also means that if your property falls in value you could find yourself in negative equity, which will result in you paying more on your mortgage than your house is worth.
A lot of mortgage lenders withdrew their 100% deals when the credit crunch hit, but lenders are slowly starting to re-introduce them, but have attached caveats, so they are not exposed to as much risk as they were previously.
What Is Available in Today's Mortgage Market?
While 100% mortgages have returned to the market they look a lot different to the deals that were available in 2007. The mainstream banks are still too cautious to offer such deals, so it has been left to the smaller banks and building societies to fill the void.
If you want to get a mortgage with no deposit in today's market, you have to offer the lender some form of guarantee so they have a safety net should you no longer be able to make your mortgage payments and your house has fallen in value.
One type of deal that is on the market is where your parents, step-parents or grandparents are asked to provide a guarantee secured against their property for the value of the loan above 75%.
For example, if you are taking out a mortgage for £200,000, 75% of this would be £150,000. The lender will ask that the remaining 25%, £50,000, is secured against your parent's property. So if you default or cannot make your payments, your parents will have to, and if they cannot, technically the lender could repossess your parent's property to seek the money.
Other deals on the market at the moment also involve some kind of guarantee from a family member. One such deal is where a family member agrees to put 20% of the property's value into a savings account, to which there is no access, which the lender would call upon should you miss your payments.
Often these restrictions are lifted once the mortgage has gone below 75% of the property's value. Some of the 100% deals offered by local building societies will also only be available to those in the local catchment area.
The Risks of 100% LTV deals
If you are thinking about getting a mortgage and have no deposit, the best thing to do would be to try and first save for one.
Monthly interest rates on 100% deals are notoriously high and you will generally pay around 6.5% for a 100% deal, whereas an 80% LTV deal might cost you sub 5% and a 90% LTV deal 5.5%. So even if you can only save a 10% deposit it will make a difference to your monthly rate.
The main risk of taking on a 100% mortgage is what will happen if your property plummets in value. You will need to ask yourself what your long-term plans are. If you are buying a three-bedroom property in a good area that you plan to stay in for ten years, it is unlikely this will drop in value over that period, which means in ten years time when you come to move you should have built some equity in your home.
If you opt for a fixed rate when taking out a 100% LTV mortgage you should really calculate your monthly mortgage payments based on the lender's standard variable rate.
If at the end of your fixed rate period when your rate expires, you will be moved onto the lender's SVR, which could be higher than the rate you are paying now. SVRs also generally track the Bank of England base rate which is at an all-time low. So it would be advisable to ask yourself if you could afford monthly payments at 1% above the lender's current SVR rate.
However if you opt for a fixed rate and you have chosen your property well, it may have increased in value when you come to remortgage, which means you could qualify for a 95% LTV rate.
What you do not want to happen is to buy a new-build flat that goes down in value and you are left with no equity in your home and stuck on the lender's SVR, unable to move to a cheaper rate elsewhere.
100% mortgage are a great way to get on the housing ladder if saving for a deposit is out of the question, but you will be open to the risk that your house could fall into negative equity.
If you are confident your house will increase in value or you plan to renovate it, negative equity shouldn't be a problem, but it is a good idea to speak to a mortgage broker who will be able to look at your personal circumstances and advise you on whether the 100% deals in the market are right for you.
You might also like...