Where Can I Get a 10% Deposit?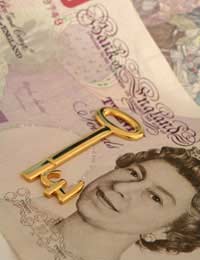 As mortgage lenders increasingly cut back on the amount of money they are willing to lend to prospective house buyers the need to raise a deposit yourself has never been greater.
A deposit of 10% is what most lenders will ask for when they are offering you a mortgage because the loan is less risky if you are willing to mix some of your own money into the equation.
You might get lucky and a lender may be willing to lend you a 95% LTV deal, but you should not rely on this.
These few questions should help you decide where you can turn to for a deposit.
1) Do You Have Any Savings/Investments?
A) Yes I have savings/ISAs and shares
B) I have some savings
C) I have no savings
2) Can Family and Friends Help You?
A) My family have offered to lend me the money
B) My parents are willing to act as guarantors but do not have any money they can offer me
C) My family and friends do not have any spare cash
3) Do You Have Anything to Sell?
A) I could downsize/sell my car
B) I have a few things I could sell but not sure it would be enough
C) I have nothing to sell
4) Could You Make Monthly Loan Repayments?
A) I have enough disposable income to pay back a loan and a mortgage
B) I could afford a small loan
C) I could not afford monthly repayments and a mortgage
5) Can You Take on a Second Job?
A) I have some spare time and could do some part-time work
B) It would have to be something that didn't interfere with my current job
C) I don't have any spare time.
Your Answers
Mostly A- A 10% Deposit Should Not Be Out of Reach
It sounds like there are a lot of doors open for you in terms of where you can go to raise your 10% deposit. Savings are always the best way to pay for your deposit as long as this doesn't leave you high and dry. If you know you are going to need your savings further down the line it's not wise to use them all now, no matter how tempting the house.
It is also sensible to ask your family for the money, as long as they are willing to lend it to you. You may not want to rely on their help, but in the long run owning your house will make you more independent. Selling something you already have or taking on a second job are both practical ways to save for the deposit and do not mean you are getting into any more debt.
Mostly B- You Might Find it Hard But You Can Raise the Deposit
It sounds like you need to call on resources form a number of different pools in order to raise your deposit. Any savings that you have should lay the foundation of your deposit. You should try and prop this up with help from your parents or a second job.
A second job doesn't have to be forever and can be a temporary move while you save the extra money. There is no harm in taking out a loan to pay for your deposit, but it would be better if this wasn't your only way of paying the deposit as this will ultimately bump up your monthly outgoings as you will be paying back two loans.
Mostly C- Your Only Option Might Be to Save
It might be time to go back to the drawing board and look at ways you can cut down on your expenditure. Where there is a will there is always a way. If your dreams of homeownership are meant to be then you will have to be strict with yourself and get saving.
Taking out a loan is one way to raise the funds, but ultimately you are getting yourself more in debt. Another option could be to wait until the housing market gets back to normality in some way and save up a 5% deposit until then. If this is still out of reach it might make more sense to rent until your situation improves.
The best way to pay for your deposit is to use your savings and any investments you might have, as ultimately you are investing them further by buying property. Even if you cannot afford the deposit now, all is not lost and all it might take is a bit of a change in lifestyle and a stricter budget.
You might also like...
I would like to ask advice about a mortgage? I am a private tenant since then