Can My Mortgage Lender Change My SVR?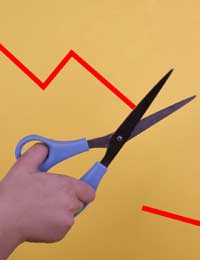 When taking out a mortgage it is important to not only know what the rate is you're paying now but also what the lender's Standard Variable Rate is.
The SVR is the standard mortgage rate of a lender and what you will end up paying at the end of your fixed period.If for example you are on a three-year fixed rate at 4.2%, after the initial three years you will then move onto the lender's SVR, which could be 5%.
How SVRs Work
Most SVRs will follow the Bank of England's base rate. This rate is decided every month by the bank and can either move up or down. If a lenders' SVR is 4% and the base rate increases by 0.25% they may increase their SVR to 4.25%.Lenders however will not normally increase or decrease straight away and some may wait a few months before they decide to change it.
Different Lenders, Different Rates
Not all lenders will have the same SVR and not all of them will base it on the Bank of England base rate. Some lenders will say their rate is in no way connected to the Bank's rate, which means they do not increase and decrease in line with this rate. In practice though even those lenders that say they do not track the base rate generally do in some way or another. They would be unlikely to increase and decrease at random.
Can My Rate Go Up?
If you have taken your mortgage out in the last ten years or remortgaged, you will need to read the terms of your mortgage contract very carefully. Some lenders have a written clause in their contract that says they cannot increase the rate beyond a certain point. For example, if the Bank of England's base rate was 0.25% and they had promised never to go 2% above the Bank of England's rate then they will not be allowed to increase that rate. It should say in your contract whether your lender's SVR is capped at a rate.
When there's a period of little movement in the Bank of England's base rate lenders should not increase their SVR. This does not mean to say they won't but they would find it hard to justify why they were making the changes.
Why Lenders Are Bringing Out New SVRs
It is usually not good for lenders when the Bank of England base rate stays low for a long period of time because this means they cannot increase their rate. Many lenders have tried to get around this problem by introducing a new rate which is the equivalent to an SVR but not referred to as such.
Many lenders now have new rates for new customers that do not track the Bank of England base rate. These rates will work in the same way to an SVR but the lender can raise or increase them at anytime, they do not have to wait for an interest rate decision.
Many lenders get caught out in a low interest rate environment because they have so many customers on a low SVR that they are unable to increase. Often the new rate that lenders are bringing out is higher than their original SVR. The new rate however will only apply to new customers and if you are an existing one your rate may go up and down, but your lender will not be allowed to switch you onto a whole new type of rate.
Mortgage lenders have the power to change your SVR when they please. In realty though lenders do not change their SVR every week, and even when the Bank of England's base rate is moving up steadily, a lender will only make a few changes to their SVR. The rate off course can also go down so you could benefit from a lender changing the rate.
If you are worried your rate will go up and you will not be able to afford your mortgage it may be remortgage before you go onto the lender's SVR and take out a fixed rate deal.
You might also like...
How can I find out what my lender's SVR was going back to 2005 because they charged me 7.94%for 10 years up until 2015 on a mortgage which was supposed to be on the company standard variable rate? Their website said their rate was 4% in 2010 but when I queried it they maintained their rate was 7.94%! A blatant lie. I have been overpaying for so long but can't seem to fix it despite my best attempts. The Financial Ombudsman say they can't help because I didn't contact them within the 6 month period after I received the letter from GE Money. They have now sold my mortgage on to Kensington Mortgages and I'm having the same trouble with them. Their SVR is 3.5% and I'm paying 6.34%. Every time I phone them they say they'll look into it and get back to me and then don't.Please help!
Diane
- 9-Apr-19 @ 5:13 PM