Questionnaire: Are You Ready to Be a Co Owner?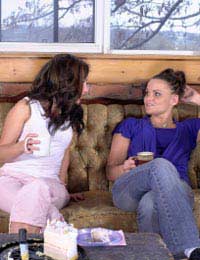 The idea of co-owning a property with somebody may sound appealing in theory, but the actual practice is a lot different.
Whether it is your parents, your friends or even the government that you are sharing your property with you will need to make sure you are entering into the business agreement for the right reasons.
We have devised this questionnaire to test whether you are ready to take the leap into co-ownership.
Simply answer A, B or C to the questions and look at the answers below to decide whether co-ownership is for you.
1, How Well You Trust the Person
A) I have known them for years, I can trust them fully
B) They are a close friend and I feel I can trust them
C) I have doubts about their trustworthiness
2, What do You Know About Their Finances
A) They have a steady income and they have shown me bank records etc,
B) They have reassured me they are not in a lot of debt and have healthy finances
C) I have not spoken to them about their financial situation
3, Are You Prepared for the Worst
A) Yes, I have a back-up plan if they decide they want to sell
B) I haven't thought about it, but I'm sure it would be ok
C) I have put no thought into it
4, Talking About the Future
A) We are both clear about how long the co-ownership will last
B) Neither of us know what is around the corner, but we're sure we can work it out
C) We are just thinking about the present and not the future
5, Who You Are Buying With
A) A close family member such as a parent or a sibling
B) A best friend
C) Somebody I have known a short while
Are You Ready for Co-ownership
If you answered A to most of the above questions it sounds like you fully trust the person you are planning to co-own with. It appears you have your finances in order, but also theirs.It also sounds like you are both clear as to how you view the co-ownership and your future plans which is good as it could get tricky if one person wants out a couple of years down the line.
The better you know the person you are co-owning with the better. Your investment will be more secure with a family member and they will be more willing to help you should you get into financial difficulty.
If you answered B to the majority of questions above it sounds like you feel you can trust the person you plan to move in with but have doubts that you need to get cleared up before you enter into any financial agreement. You also need to check their finances.Money is often the main culprit when it comes to breaking up a friendship, so make sure you both know where you stand regarding your finances.
If your answer was C to the majority of the questions it sounds like you have strong doubts as to whether you can trust the person. It may be best to walk away from the co-ownership or you could be in for a nasty surprise further down the line, especially if you know little about their finances.You should also make sure that you know your co-owner's intentions before you move in together.It is a bad idea to co-own with somebody you don't know very well, unless you have evidence that they can be depended on.
Taking out a joint mortgage is becoming increasingly popular as people struggle to get on the housing ladder, but make sure you don't enter into an agreement with your eyes wide shut and that you trust the co-owner.
You might also like...