Questionnaire: How Much Can I Afford to Borrow?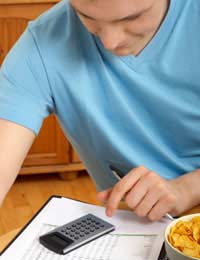 You may think that you can afford a mortgage and worked out in your head how much you can afford to pay back every month, but the reality of what a lender is willing to lend to you may be different.
Mortgage lenders will normally look at three things, your income, your expenditure and your credit rating when deciding how much you can borrow.
These few questions should give you a rough idea of how much a lender will lend to you.
Questionnaire
1, How Long Do You Want The Mortgage For?
A) Twenty-five years plus
B) Twenty years
C) Less than twenty years
2, How Many People Are Taking Out The Mortgage?
A) Me and my partner
B) Me, but using my parents as guarantors
C) Just me
3, What Type of Mortgage Do You Want?
A) Repayment mortgage
B) A mixture of repayment and interest only
C) Paying back the interest only
4, How Much Money Do You Have Left After Expenditure?
A) I have about 80% of my wage left
B) I have around 50% of my wage
C) I have a very small amount left
5, How Good is Your Credit Record?
A) Very good
B) Moderate
C) Not good at all
Answers
Mostly A
It sounds like you are in a good position to borrow the maximum amount that is on offer. As a general rule a mortgage lender will offer you up to 3x your income if you are borrowing with a partner. So for example, if you earn £30,000 and your partner £25,000 this is a combined wage if £55,000. If you multiply this by three it works out as £165,000.
A lender may be willing to lend you more but they will want to make sure you have a good clean credit record which means you haven't missed any payments on past loans. They will also want to make sure you have enough disposable income left after you have paid your mortgage repayments, so you don't run the risk of getting into more debt.
The longer you want your mortgage for, the better, as this will lower your mortgage payments and you will have more time to pay off the debt.
Mostly B
It sounds likes you are in an OK position regarding taking out a mortgage. If you are trying to get a mortgage with just your income you will be able to borrow the maximum of four times your income. So, for example if you earn £30,000, you will be able to borrow around £120,000. If you have your parents acting as guarantors though the mortgage lender will look favourably on this as it gives them an extra guarantee.
The mortgage lender will also want to make sure you have a good credit record and will not be stretching yourself too far when it comes to the repayments.
If they look at your bank statements and think you spend too much they may offer you a smaller mortgage. You should also try and expand your mortgage period for as long as possible and try not to only pay back the interest as this will mean you are not paying back any of the actual mortgage debt.
Mostly C
It seems that you may struggle to get the mortgage you require. The amount you can borrow will be based on your income alone so the mortgage lender will want to look at your finances in the wider picture.
They normally like to borrow over at least 25 years as this makes your repayments lower, and if you opt for a shorter period of time and only want to pay back the interest this will make your overall repayments very high. This should not be a problem if you have a lot of disposable income, but if you are already stretching yourself with your payments the lender could view you as too much of a risk, especially if you have a bad credit record.
The amount a lender will lend to you can vary depending on which lender you go and your own specific circumstances. As a general rule though you should not expect to borrow more than four times your income, even if you have a perfect credit rating.
You will need to be able to prove your wage and that your mortgage will be affordable. Within your affordability you should also allow for what would happen if you or your partner were to lose your job.
Even if the lender tells you they will lend you a certain amount of money it is important to judge for yourself whether or not you can afford it.
You might also like...