Stuck With a Mortgage I Couldn't Afford: A Case Study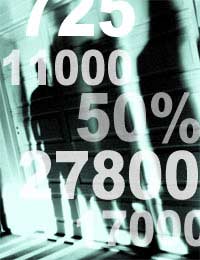 If you are stuck paying a mortgage you cannot afford, packing up and selling may not be the only option open to you. The government is doing its best to try and prevent people being turned out of their houses, so it is worth seeing what help is available.
Jack and his wife had two small children and had lived in their property for about six years. When they bought the property they borrowed as much money as they could, which ended up with them having a mortgage for 105% of their property's value. Up until recently they had been able to remortgage every two years onto a similar priced deal, but thanks to the credit crunch they were finding it almost impossible to get an affordable rate.
What to Do
"Me and my wife went to visit a mortgage broker who informed us that no lender was now offering 105% mortgages. He instructed a valuation to be carried out on our property which to our horror came back saying that the value of the house had only risen very slightly," explains Jack.
"This meant that we could not apply for a mortgage at 90% LTV as there was not enough equity in our property. The only option open to us would to go onto our mortgage lender's SVR rate at the end of our current deal," explains Jack.However, the lender's SVR was substantially higher than what they had been used to paying on their mortgage, they knew that if they were forced onto this rate they would have a struggle paying.
Your Options
"We had read about how the government is trying to do a lot to help people who cannot afford their mortgage repayments, so we looked into a few of the schemes available," says Jack.
They went to visit a mortgage broker to ask about the schemes, he told them that the first thing they should do is speak to their lender and ask if they can defer mortgage payments for a couple of months or take a mortgage holiday.
"We did think about this option but the problem was that we were never going to be able to afford the repayments as long as the rate was so high, and there was no hope of us having higher salaries in a few months time either," explains Jack.
Seeking Government Help
"We were advised by our mortgage lender that we could apply for the government's mortgage rescue scheme. This was designed for people who had experienced a payment shock and were unable to meet their mortgage payments," explains Jack.
The shared equity part of the scheme, which is what Jack and his family were best suited to worked by the Registered Social Landlords providing an equity loan, which allowed their monthly payments to go down. Up until the 2009 Budget they would not have been able to apply for this because they did not have a lot of equity in their property, but the scheme has now been opened up for people who are in negative equity.
"The loan that the RSL provided meant our mortgage payments were at a level we could cope with. The process to get the loan was quite time consuming and there was a lot of paperwork to fill in, but it enabled us to stay in our home," says Jack.
Jack is on a stable income so the RSL was willing to offer the loan as they knew there would come a day when Jack and his family would be able to meet their mortgage payments and pay off the loan.
Now more than ever the government is trying to keep as many people in their homes as possible, they do not want to see anybody repossessed, if it is preventable. So if you are worried you cannot make your mortgage payments you should speak with your mortgage lender in the first instance and then see what government help is available, as there may be help out there that could save your home.
You might also like...