I Cut My Spending to Afford a Mortgage: A Case Study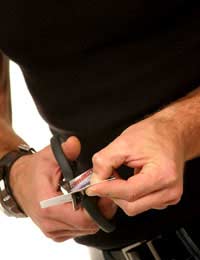 You may have done the calculations in your head and thought a mortgage was too expensive or that the time just wasn't right, but a simple re-evaluation of your finances might surprise you and show that you actually can afford a mortgage.
A key test as to whether you can afford a mortgage is usually if the mortgage lender will give you one.
If they look at your finances and deem you a good risk then theoretically it should mean that you can afford a mortgage. Similarly, if they turn you down, it is worth finding out why so you can try and reverse the decision.
Your Initial Meeting With a Mortgage Lender
Karl was 28 years old and decided that he wanted to try and get a footing on the housing ladder. He earned around £25,000 a year but had no deposit saved up.
"I went to visit a financial adviser to see if I was eligible for a mortgage. He told me that although I had a reasonable income I would not be able to find a mortgage deal because I did not have a deposit.
"After looking at my wider finances he also said I should think about paying off any other debt I had before I started to think about taking on more debt.
"On top of this as he looked through my bank statements he discovered that my outgoings were more than my incomings, so another good idea would be to try and reduce the size of my overdraft," says Karl.
Getting Your Finances in Shape
Whatever your financial situation there are always things that can be improved. Karl lived at home with his parents so there was no excuse as to why he wasn't able to save up a deposit or pay off his credit card bills.
"When I sat down and looked at my outgoing I realised I was throwing money away by spending it on what I deemed 'useless items'. Most of my money was spent during the day or when I went on my lunch hour during work," he says.
Karl decided to set himself a budget and only take out every day what he could afford to spend. He also arranged for his credit card bills to be paid at the start of the month by direct debit as soon as his wages came in, so this way he didn't have chance to spend it.
Time to Budget
"I cut up my credit card up to avoid any temptation and worked out small monthly payments which meant I could pay off the remaining balance within one year. I also set up a new account which I would use to save a deposit for my flat.
"I calculated I would have at least a £3,000 deposit by the end of the year, which could give me a good start," says Karl.The hardest part for Karl was having to cut down on his day to day expenditure and cut back on things such as clothes and nights out.
"I started to take my lunch into work and only tried to spend money at the weekends, I also stopped myself from going on holiday and tried to only spend the money I had in my bank," Karl explains.
He also enlisted the help of his friends and explained that he would not be able to go out as much and instead suggested nights out around their houses instead.
When it comes to saving, unfortunately it is a necessary evil if you want to be able to afford your dream property. It is hard to save, especially if you have been used to spending whatever, whenever, but you should always have your end goal in sight.
It doesn't mean that you have to go into hibernation for the next few years, it just means that you have go through your outgoings and pick out anything that is non essential, or you think it less important than owning a property.
Once you start comparing owning your own property to fluttering money away on 'useless' items, you will soon find making the sacrifices easy.
You might also like...