Effect of a Recession on Mortgage Repayments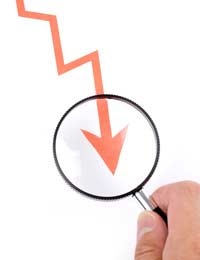 Every government strives hard to avoid the effects of a recession on the population and in particular that part of the population who are home owners. Home owners often are among the first to suffer when interest rates rise or changes happen with inflation rates. So much so that mention of a recession can often turn a thriving housing market into a depressive state until such times as industry pulls through.
Mortgage Repayments
As we have already mentioned home owners often bear the brunt of a recession and as such find that meeting mortgage repayments becomes difficult. This happens because substantial numbers of jobs are nearly always lost during a recession and those individuals left in work find that pay increases are frozen until such times as the situation improves.
The Benefits of a Fixed Rate Mortgage
For those home owners fortunate enough to have a fixed rate mortgage (and the number is perhaps not as high as you might think) there is some comfort to be had as with a fixed rate mortgage the rates can only increase once a certain period of time has passed. For example some fixed rate mortgages may be fixed for three or five years within which time interest rates may rise but the mortgage repayments stay the same.
The Disadvantages of not having a Fixed Rated Mortgage
Having a flexible interest rate on a mortgage especially in a recession can lead to many home owners falling into debt as interest rates and mortgage repayments rise and salaries stay static. During a recession it is usual for the number of repossessions to rise and also the number of unemployed.
How to Safeguard Yourself in a Recession?
In order to protect yourself and your home in a recession it is necessary to think ahead and make decisions whilst times are good. This may sound like something that is common sense but it is unfortunately something that a lot of home owners do not take seriously.
When times are good, disposable income is high and house prices are at a premium home owners can take advantage of many different offers. It is wise where possible to put what money you can aside to help compensate for the down turn when it eventually arrives.
When times are good it is a worthwhile investment of your time to look at transferring your mortgage especially if it is a variable rated mortgage. Moving from a variable rate to a fixed rate when the housing market is stable ensures that when things take a turn for the worst financially you still have some money to fall back on rather than having to sacrifice more of your income to pay additional interest.
Payment Protection
Taking out some cover on your mortgage repayments is also a good idea. For a monthly repayment you can safeguard yourself for a period of time against job loss or illness which allows for the mortgage on your home to be paid leaving you to concern yourself with finding a new job or to get better if you are ill.
Further Information
Where possible you should seek the advice of an independent financial advisor; make sure they are independent and not tied in to any one particular mortgage company or financial group. This means you will receive the best and most impartial advice on offer and will be offered the best financial solution to your own needs.
You might also like...