Shared Ownership Homes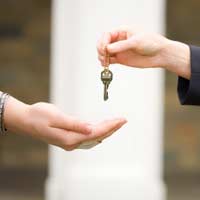 For some of us breaking into the housing market can be a difficult task especially given how house prices are falling and lenders are more reluctant to grant mortgages following the so-called 'credit crunch'.
With this in mind we look at Shared Ownership Homes, a way in which to own part of a home – at least initially - and get a foothold on the property ladder.
What is Shared Ownership?
Shared Ownership is when two or more people own a home and have applied for a mortgage together. Mostly shared ownership is two people, usually partners, who have applied for a mortgage to buy the property together on the understanding that if one or the other decides to sell then he or she must seek the approval of the other partner and also must give them first refusal on the purchasing of their half.
Applying for a Mortgage Together
Many mortgage lenders favour joint applications for a mortgage as this spreads the risk should anything go wrong. However you must still go through the procedures of applying for a mortgage in the same way if you were applying as a single mortgage borrower.
When applying for any mortgage the mortgage lender will ask for details of your expenditure i.e.: how much money do you have coming in jointly, how much money is going out, do you have any adverse credit and are you both in full time employment?
If either one of you is unemployed then this may cause a problem and the mortgage lender may suggest a single applicant mortgage. However if you are both in full time employment and have no adverse credit the likelihood of your being accepted for a mortgage is greatly increased.
Buying a House Together
Buying a house together can be as daunting as if you were buying a house on your own so it is important to take all important decisions together and to be in agreement. If you both cannot agree on a way forward then it is best to go back to the drawing board as it were and try to come up with other solutions. It is important to consider how stressful buying a house can be and whether or not it is something you really want to do.
If you need advice and support, especially where mortgages are concerned, it may be worth employing the services of a solicitor or financial advisor who specialises in such things. He or she can help you with your mortgage application and also with the exchanging and signing of contracts.
Right to Buy for Shared Ownership
If you and your partner have shared a Housing Association or council home together then you may be eligible to buy the property if you have resided there for five years or more. You will be notified by the Housing Association or council if you have lived in the property for five years or alternatively you can apply in the last six months of year four of your tenancy. Again it is worth noting that if you cannot afford the buy the property outright you may be able to enter into a Rent to Buy scheme; this means that as partners you can purchase one half and rent the other whilst trying to raise the capital to buy the other half as well.
Further Information
As always it is a good idea to consult with a financial advisor or solicitor specialising in house buying before entering into any mortgage agreements. You should spend time considering all of your options before making a final decision and it is important also to take the time to consider your finances carefully before applying for a mortgage.
You might also like...
With shared ownership who pays for any window repairs etc and who pays for any cladding that needs to be replaced?
Chatterbox
- 11-Feb-21 @ 10:31 PM
We live in a top floor flat, so part of the attic space is above us. Recently, all but two of our lights have blown. We are insured with British Gas for electrical work so called them out. After 6 hours over 2 visits the fault is in the loft area, and by the look of it either mouse or rats have chewed through the wire. There is so much insulation up there that they couldn't find the exact spot that was damaged, they only went by a bit they had found partially chewed. They cannot do any more work now until we get pest control in. I just need to know who is responsible for this? We have found the fault so we think we've done our part. It's obviously a fire risk so we've isolated the lights on the fuse box, but it's not an ideal situation to be in with no overhead lights. We own 55% of the property and pay a service charge and sinking fund. No tenants are allowed to put anything in any communal areas ie. door mats or are we allowed to use the cupboards on the landings ( even though we were given keys by the estate agents ) so surely the loft area is the landlords responsibility?
Bev
- 22-Nov-20 @ 10:28 AM
I am trying to buy a 25% share of a property - and want to pay for it outright, with savings I have collected over the last 20 years. I was told that I am not allowed to buy the share with just my savings - and that I MUST take out a mortgage. I was also told I would only be allowed to keep £10k in savings, incl fees, despite the fact i intend to keep these extra savings for a pension plan - as I am already 52. Basically, the housing association is forcing me to buy 10% more shares, based on my savings - and take out a mortage. This would stretch me financially beyond what is comfortable for me, and would prevent me from spending funds as I choose, to improve my basic quality of life (holidays, hobbies, healthcare etc). I totally fit their other affordability criteria. I find their demands utterly unreasonable.
winter
- 31-May-19 @ 12:18 PM
Hi we are wanting to move from our shared ownership property to another shared ownership but i can't go on the mortgage due to bad credit etc, would my husband still be able to apply for a shared ownership property as a single applicant? with the housing association?
glover_113
- 12-Feb-18 @ 11:08 AM
I work as a sixth form study supervisor in a college , it's part time am I entitled to part ownership under key worker scheme.
I'Ve just sold my shared ownership flat and upgraded to a three bed shared ownership home with my boyfriend to start a family. If things go terribly wrong and we end up splitting up, would I be allowed to buy another shared ownership flat (for a third time) if we sell this one and split the money? I'll never be able to buy somewhere on the open market and shared ownership is my only option. Obviously I hope we never split up but I need to know my options...
Carly
- 20-Jul-17 @ 2:20 PM
I own 25% of the property I saved some deposit and I am planning to buy a house with my friend but still keep share ownership property. Is that allowed?
LILLY
- 21-Mar-17 @ 2:57 PM
If I try to buy the 25% Equity in a shared ownership flat valued at £165k are the following costs likely to be incurred : My legal fees The Housing association legal fees Other HA fees What other costs are likely to be incurred ? How long is it likely to take ?
Skyblue180
- 2-Mar-17 @ 10:03 PM
I have bought 50% share from property builder or from the owner of property 5 years ago.Now I have try sell my 50% through property owner but failed.at this point definately looks I am trpped in scam (I am sure what I said is true). the flat we live is bit small but I can not buy another our desirable property because we are unable to sell.If call PPE is scam wy not this! I am sure government should investigate in share ownership schme & help & if you have any solution regarding my matter,Iwill be very happy to hear from you
kishan
- 7-Dec-16 @ 3:08 PM
@sadielouise , thanks for your insight. It was really helpful. May I ask where you bought your shared ownership flat?I have been trying to get onto the scheme as a single buyer in London, still -working full time as a teacher with a £42/year salary and a £15k depositevery assessment company finds that I wouldn't be able to afford a flat - hence I can'r even book a viewing with a developer. It is rather annoyingand really frustrating.. I do envy you your luck :)
mags
- 28-Oct-16 @ 8:30 PM
Emma - Your Question:
Good Afternoon, I was just wondering if you do the shared ownership scheme and if you could send me some information or an application form. ThanksEmma
---
Our Response:
We are a general advice page, so do not have this information. However, you can find your local help to buy agent via the link
here
.
AffordableHomeAdvice
- 6-Jul-16 @ 11:42 AM
Good Afternoon, I was just wondering if you do the shared ownership scheme and if you could send me some information or an application form. Thanks Emma
Emma
- 5-Jul-16 @ 1:30 PM
Titch - what a load of old rubbish.I currently live in a shared ownership property which I bought as a first time buyer and have lived there for 12 years.I put down a deposit of £5k and am now selling my house and will hopefully come out with £20k so there is lots of scope to move on. Clarkey - The monthly rent will be stated in by the housing association for the remaining share.For instance my rent for the 50% is £150/month but I know if I bought the other 50% share I could rent the house out for £500/month.So the rent on the 50% I do not own is £100 a month cheaper than if I were to rent a house of this type outright. I can't praise shared ownership houses enough.I was desperate to get on the housing ladder and this was the only way I could afford it.Now I am in the position where I can buy the rest or move on to another property where I can buy the 100%.Shared ownership gets a lot of bad press which really isn't fair mainly because people don't understand it and don't see the real benefits of it.I would highly recommend buying one if you want to get on the housing ladder and are struggling to afford a full mortgage.
sadielouise
- 17-Mar-16 @ 11:52 AM
hi, i am buying a shared property on my own but still having my husband living with me i was just wondering what happens to the monthly rent i will be paying does it reduce the remaining half?
clarkey123
- 22-Jan-16 @ 10:39 PM
Those with low equity or first time buyersand especially pensioners thinking of using the shared equity scheme. BEWARE. Once you have paid your money into shared equity you will never be able to move again . Like many others you will be imprisoned in your own home for ever. Low equity will only allow you to move into another shared equity propertybut no other council in the country will let you in without local connection. This restricts movement, is cruel and unfair. Think very carefully before taking shared equity.
Titch
- 30-Jun-15 @ 10:45 AM