Buying a Home at Auction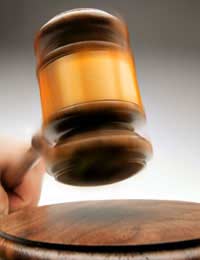 It is unfortunately a fact that many people during the course of a year in the United Kingdom lose their homes due to problems with mortgage arrears and rising debt. This is known as foreclosure and occurs when the mortgage lender – be they a bank or building society – decide that they are not likely to recoup the money they have allowed individuals to borrow to buy a home.
As you may know when you buy a house the deeds of the house are kept by the mortgage company until such times as the mortgage is cleared off, thus effectively meaning that although the house is yours it technically belongs to the mortgage lender.
How Do Houses Get to Be Up for Auction?
In essence what happens is that the mortgage lender forecloses on the mortgage lent to a borrower, this in turn means that they are reclaiming the house upon which the mortgage was lent. When this happens the mortgage lender will go to court and the borrower will be asked to attend to see if he or she can make good on the mortgage repayments before the matter goes any further. If the borrower cannot do this, which is often the case, the magistrate issues what is known as a 'possession order'. When a possession order is raised it means the mortgage lender has the right to reclaim the property – referred to as foreclosure – and thus the occupants of the house must vacate the premises. When this happens the house is normally sold at auction to try and recoup as much of the mortgage as is possible.
What Happens at a Property Auction?
If a house is put up for auction it is given over to a specialist property auctioneer who – in conjunction with a surveyor from the mortgage lender – will value the property in its current state. The value arrived at is the value at which the property will be put up for auction with the mortgage lender specifying a reserve price which must be met before the house can be sold. A reserve price is a price that only the auctioneer and the mortgage lender can set and it must be publicised that a reserve price is in operation at the time of auction.
At the auction any interested parties must make their interest known and must also be in a position to pay either the deposit required on the property or the full sum. You have a limited amount of time after the auction to pay the balance on the property otherwise it will go back up for auction again and you will be charged fees for making the mortgage lender and auctioneer wait.
It is important to note at this point that if you are attending an auction you should have the finances in place to pay for a property if you are the winning bidder.
Viewing Properties For Sale at an Auction
You may be allowed, depending on the auctioneer and the mortgage lender, to view the properties up for sale prior to their auction. This gives you and any other bidders an idea as to the condition of the property and also what work may need doing to make the property habitable. You should be aware that at a property auction there will be representatives from private building companies, housing associations and property developers all of whom will have the money available. They will also try to force other bidders out of the running for a property by forcing the price up.
What Should I Do If I am Bidding?
It is important to remember that at an auction every move can be mistaken for a bid. As auctions are almost always bid open by the nodding of heads or waving of hands it is important to remain calm if you are bidding and not to accidentally bid for something that you cannot afford. It may be worth while taking someone with you who has experience in auctions and also deciding upon your maximum spend before bidding. It is not uncommon for individuals new to auctions to outbid simply out of excitement and then to discover they cannot afford the actual price they have bid.
It is worth registering your interest with property auctioneers who will send you a catalogue of the properties that are coming up for auction so that you can get some idea as to price and location. Where possible it is worth visiting the properties in advance of an auction to establish whether or not the properties in question are worth the money you might spend on them. Also it is worth consulting a financial advisor and solicitor before making any on the spot purchases.
AFFORDABLE HOME ADVICE IS FOR SALE.
This website is for sale [more info].
You might also like...
I looking house upper fixed houses to buy in Downtown Toronto
uglymen
- 30-Aug-13 @ 6:12 AM
Has anyone bought at an aution lately? I'm going to my first auction next week and would love tips and advice on how the whole thing works from someone who's been before. Really scared about biding on something by accident, do they make you buy it if you didn't mean to bid? Also do you think it's wise to view the property first before going to auction?
buyer
- 18-May-12 @ 5:07 PM