How I Got a Key Worker Mortgage: A Case Study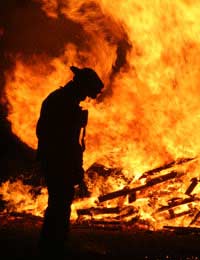 Key worker mortgages are the government's thank you to people who work in the key services in the UK. The government has teamed up with a number of UK lenders to try and help key workers get on the housing ladder.
What Help You Are Given
Jim had been working as a fire fighter for four years and knew there was very little chance that he would be able to afford a mortgage on the wage he was on. He had heard about special mortgages for key workers, but was not sure if he qualified for one.
Jim is a typical example of somebody who is eligible to apply for the government's key worker mortgage scheme but does not necessarily know it. A key worker can be anyone from a policeman to a teacher, but the government has a definitive list of who is classed as a key worker, so it is worth getting in touch with your local authority.Unlike other government first-time buyer initiatives the key worker mortgage can only be used by key workers as oppose to anyone on a low income.
"I went to visit my local bank which offered key mortgages. They told me that only around six lenders currently offer key mortgages, so I was lucky my local bank did," says Jim.
Many of the banks are not keen on offering key worker mortgages, but new lenders do occasionally join the scheme from time to time. Your local council should be able to advise you as to who is offering key worker mortgages in your area.
"Under the scheme I was able to borrow £50,000 from the government towards my new property, I could have borrowed more but I thought this was enough to for a large deposit for a property and the lender I spoke to said it would be ok for me to have no deposit at all," says Jim.
Restrictions
"I went through the paperwork with the lender and read carefully all the small print. Even though I was the one that would own the property I was still obliged under the scheme to insure the property and make sure it was kept in a good condition. I would also have to make sure that I was living in the house and not turn it into a buy-to-let property and rent it out to someone," says Jim.
Repaying the Loan
Jim will only be able to have the loan as long as he is a key worker, if he decided he wants to go and work in a shop or an office and is no longer classed as a key worker he will have to sell his property and give the government back its loan.
"I need to keep in mind that when the property is sold I will need to pay back the loan. The property I am planning to buy is around £120,000. The government is lending me £50,000 so if the property sells for £240,000, which is unlikely to happen, well only in my dreams, then I will owe the government £100,000. If however my house goes down in value my loan will also fall," says Jim.
Jim was keen on taking out a key worker mortgage and decided that he would go ahead with the loan. He thought if his property went up in value then this would mean more money for him, so he would not have to worry about owing the government more money.
Key worker mortgages are a great way to get on the housing ladder, but they are not a magic answer to everyone. Ideally you need to make sure that you are committed to working as a key worker and are happy with the prospect of having to pay the loan back if you lose your job.
You might also like...
Would like to know that as a key worker if I would need a deposit
ren
- 27-May-17 @ 1:40 PM
Hello, I would like to know if anyone has a link that gives more info on this key worker scheme. The only think i find online is the help to buy scheme, which doesn't help you with the deposit and isn't for key workers only anyway. Cheers, El
Who now owns the key worker loans that were granted in 2006? I cannot find their website anymore and don't have any way to ask questions about an existing loan. Thanks!
Lynn
- 13-Nov-16 @ 8:40 PM
Hello.is thekey worker mortgage still available.of yeswho are the lenders?Does it mean i can get a mortgageand buy a house as akey worker with no deposit?
Tina
- 11-Nov-16 @ 11:59 AM
exdoee - Your Question:
Hi I would like to know if I took help to buy mortgage as a teacher and I retired, what happens to the loan.
---
Our Response:
You will still have to pay your mortgage if you retire.
AffordableHomeAdvice
- 11-Feb-16 @ 12:10 PM
Hi I would like to know if I took help to buy mortgageas a teacher and I retired, what happens to the loan.
exdoee
- 10-Feb-16 @ 8:11 PM